Trading In Your Car – Step by Step Guide, Tips, and Mistakes to Avoid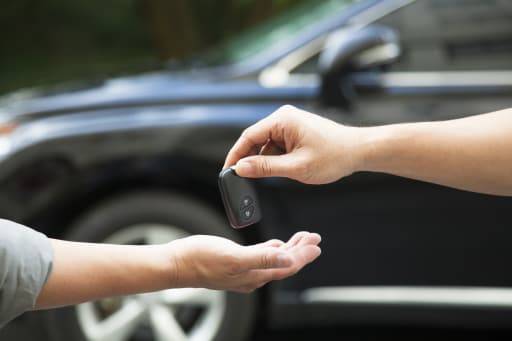 It's a fact that selling your car privately fetches a better deal than trading it in. But this route may not be the best if you are not ready to do the legwork and find the best buyer yourself. On the other hand, turning the car over to the dealership is a fast and convenient way of financing your next auto.
The only issue is that you'll be dealing with a savvy salesperson who is out to extract the most profit possible out of the 2 vehicles. Here we explain how to trade in a car and a few tips for getting the most out of this deal.
How Does Trading In a Car Work?
When you're trading in a car, you offer it to the dealership for an agreed amount of money. That car is called a trade in. The amount that you two agree on is called the trade in value, and it's applied towards the price of the vehicle that you want to buy or lease.
The process of trading in your auto can take 2 different directions, depending on its equity. Vehicle equity refers to the resale value of your car minus the amount that you owe on it. If your auto is worth more than you owe, you have positive equity.
On the contrary, if your current car loan is higher than its present value, that's negative equity. For instance, if you still owe $7000 on your car loan and the best it can fetch is $5000, then you'll have $2000 negative equity. In the auto world, having negative equity is being upside-down or underwater on a car loan.
It's advisable to trade in your car when you have equity on it. This is because the extra amount is deducted from the negotiated value of your next car, which lowers your monthly car repayments significantly.
It's possible to trade in your auto even if you've not paid it off yet. In this situation, the dealer agrees to pay off the outstanding loan and rolls the same amount to the price of your new car. Because this will increase your monthly payments, the dealer may happily allow you to stretch your new car loan for lower monthly repayments.
But this option can be risky because it puts you upside down even before you roll your new car out of that lot. Additionally, you end up paying more interest and you stay underwater for long.
How to Trade In Your Car- Tips to Maximize Your Car's Trade In Value
The trade in value of a car is usually lower than its market value (almost always). This is because the dealer is in business and needs to make some money off your old car after reconditioning it.
The dealer is also responsible for covering all the paperwork pertaining to the transfer of the vehicle. For these and other reasons, the salesperson will offer a lowball offer on your trade-in, hoping that you'll take it.
Your role in the back and forth negotiation that ensues is to bring the trade in value as close to the wholesale value as possible. Remember that the more you get from the car you're disposing of, the more you'll have as a down payment for your new purchase.
Here are essential tips that will get you a fair car trade in value:
1. Know Its Wholesale Worth Beforehand
The first thing that you want to do before turning over your trade in is to determine its value estimate. This should give you a ballpark of how much would be a fair trade in value at the dealership. It will also help you detect when the salesperson is trying to rip you off.
Figuring out exactly how much your car is worth isn't so straightforward. There's never an exact figure for a used car as there are many things to factor in, such as make, model, year, trim level, mileage, and current condition. At the end of the day, the 'worth' of your used car boils down to how much you can convince the potential buyer to pay for it.
Most people have a tendency to overrate the retail price of their car based on how much they paid for it and the maintenance cost. It's also common for others to undervalue their auto based on the year of manufacturing and more so if they have regularly ignored preventative maintenance.
How do you determine your car's worth?
Resources, such as the Kelley Blue Book, have a solid reputation for estimating how much would be a reasonable retail value for a used car. Another excellent tip is to search and browse car listings in your area and see how much other people are selling similar vehicles. Use the information you gather around to come up with a baseline of how much you'd expect from the dealer. There's no harm in printing this info and using it to convince the salesperson to get you a slightly better car trade in value.
2. Spruce It Up
Your car's first impressions count whether you're selling it in a private sale or at a dealership. When you turn your car as a trade in, a representative from the used cars department will inspect the car from the inside out and take it for a test drive before making an offer.
Giving the representative an impression of a well-maintained car right from the start will go a long way in getting you a fair net value. Auto detailing also offers you some leverage when trying to negotiate the trade in value up. If you have some spare time, you can do most of this work yourself. You can also engage a professional detailer for a couple of hundred dollars.
Quick ways to Give Your Car the Most Curb Appeal before Trading It In
i) Wash it– scrub off all dirt using a foaming brush. Next, give it a thorough spot-free rinse to ensure there are no drying marks on the surface. Remember to scrub your alloy wheels thoroughly, too, to remove stubborn road film, tar, and gravel.
ii) Inspect the paintwork looking for scratches, stone chips, and dents– minor scratches are easy to conceal using touch-up paint. If there are no issues with the paint itself, waxing may be all you need to restore its shine.
iii) Clean and vacuum the interior– pet odor or cigarette smoke in the cabin is only going to hurt your trade in value. Take the time to clean and vacuum it thoroughly, giving proper attention to the cracks and crevices that you've been leaving out during typical car-cleaning sessions. Other key areas include the cup holders, glovebox, dashboard, and trunk. Don't forget to vacuum the seat covers and carpets. If your vehicle is relatively new, bringing back that 'new car' smell may pay big dividends.
iv) Reset all data on your car's technology– cleaning up your trade in also involves resetting all the technologies to factory settings. Wipe your navigation history and all personal info from the navigation system and drop the Bluetooth connectivity between your car and mobile devices.
v) Fix the lighting– make sure all the lights are working and replace some bulbs if necessary.
3. Don't Over-fix It
While sprucing your auto is beneficial, avoid spending so much money as you'll end up losing more. Set up a small budget to replace the fluids and repair a dinged paint job. Of course, you don't want to present your trade in with a cracked windshield. Your insurance company may cover some if not all of the costs of replacing the windshield. Even if it's not covered, replacing a windshield costs anywhere between $100 and $400. This is a simple repair that will add significant value to your trade in offer.
However, fixing some bigger-ticket items, such as a broken air conditioner and worn out tires, won't make a lot of economic sense. Remember that dealerships are in the business of reconditioning cars for resale, and they are likely to fix major flaws for a substantially lower cost than you. So, leave the expensive repairs for them.
4. Shop Around for the Best Offers
Armed with an estimate of your car's retail value, start shopping around for a dealership that will offer you the sweetest deal. Consider beginning at Gettacar.com for a no-haggle offer that lasts up to 4 days. You may also contact multiple physical dealers. Be sure to bring any maintenance records and receipts as concrete proof that the car has been kept well.
Keep in mind that physical car dealerships are generally busy places, so it pays to schedule an appointment early enough if you want to save time.
When you take your car in for appraisal, ask whether you're allowed to accompany the dealership's appraiser. Ask any questions that you have regarding how the appraiser is determining the car's value. Don't be shy to pull out some maintenance and repair records if you think they can persuade the appraiser otherwise when evaluating some of the components.
When searching for where to trade in your car, you may want to try out the dealer who sold you the vehicle. You are more likely to get a slightly better deal there since you've already done business with them before.
5. Negotiating the Trade In and Your New Purchase
With quotations from multiple dealers, the next step is to narrow down to the dealership with the best offer for your trade in. When you're caught between two dealerships, it's usually recommendable to gravitate towards the one from whom you want to purchase your next vehicle.
However, most experts recommend negotiating the 2 separately. Conventional wisdom suggests starting with the price of your new car before bringing your trade in into the picture. The first figure that the dealer will throw out will be on the lower side, and it's up to you to negotiate for a better deal. When asked how much you expect for the car, you could say something like: "I've done a great deal of research on how much this car is worth, and I believe such and such amount would be a fair deal."
In the negotiations that follow, back up your new price requests with reasons why it reflects the value of your trade in and why you can't go any lower. Of course, you want to be friendly and respectful. However, if what the dealership offers is way too low than you had expected, remember that you can always walk away.
On the same note, if you've solicited for a better deal from several dealers but keep getting similar offers each time, perhaps that's the best your car can fetch. Your options here are to take the offer or try to get a better price from a private sale. You may also want to determine whether that's the best time to trade in your car.
6. Finalizing the Deal
After agreeing on the price of the trade in, it's time to close the deal and get the paperwork done. Of course, you're not under any obligation to finalize the paperwork immediately. Before appending your signature on the finalizing paperwork, you could take a break to reflect on whether the deal you're about to close is the best. You could also ask for further advice from a knowledgeable friend.
Once you're confident that you're making the correct move, you can go ahead and sign the paperwork. Before that, though, take the time to read all the car transfer documents. Ensure that the information in them is exactly as you've agreed with the salesperson.
Importantly, be on the lookout for hidden fees that may be pre-printed in the documents already. Some dealerships charge a $200-$500 documentation fee, which is basically easy profit for them. If possible, negotiate to have this fee lowered to below $200 or removed altogether.
If the value of the trade in is to be used as credit for your new purchase, double-check that the correct amount has been deducted from the price of your new ride.
Bottomline: ensure that any omissions, errors, and blank spaces are rectified before signing the documents.
7. You've Traded In Your Car- What Next?
i) Get in touch with your insurance agent
After rolling off the yard in your new car, the first thing to take care of will be the insurance coverage. Most insurance companies will extend your existing policy to your new purchase for up to 4 days. This does not apply to all insurance companies, though. So notify your agent about your new vehicle as soon as possible. The dealership may try to be more helpful and promise to tell your insurance company about your new purchase. Don't rely on them: this is your responsibility.
ii) Ensure the trade in payoff is settled
If the dealer promises to settle your existing car loan, you need to contact whoever deals with the trade in payoffs to ensure that this is done promptly. A good dealer will pay your loan in 7 days or less, but a slow one can take up to 30 days. If the dealer has already cleared the loan, enquire about the check number and the date it was processed. Confirm this with your lender to be on the safer side.
What Do You Need to Trade in a Car?
As you search for the best offers for your trade in, collect all the documents and other accessories that appertain it, including:
Vehicle registration
All vehicle keys
Vehicle title (a.k.a pink slip)
Car loan payoff plus account information
Maintenance records and receipts (not necessary but helps a lot)
Original owner's manual
Pay any outstanding parking tickets
5 Key Things to Avoid When Trading In a Car
Turning over a dirty trade in. A clean and fresh-smelling car will fetch more at the dealership than another one that's full of grime.
Not knowing what your car is worth. Do your homework and get an estimate of how much would be a fair trade in value to avoid getting ripped off.
Over-fixing your auto– avoid spending thousands of dollars, especially in a car that is not likely to fetch a lot of money.
Failing to provide all the accessories. Dealers prefer vehicles with all the accessories.
Giving false information when applying for a trade in.
FAQs
How does trading in a car work?
When trading in a car, the dealer will assess your car's condition, taking into consideration wear and tear, abuse, and mileage. Next, the appraiser will give you a trade in offer liable for negotiations. When you agree on the retail price, this amount is deducted from your new car's price.
Can you trade in a leased car?
Yes. It's possible to trade in your lease with another dealer, but you should understand the penalties and consequences that come with this transaction. There are 2 options when trading in a leased car:
The dealership clears the lease balance and purchases the car from the leasing company. If you have positive equity on the car, this amount (minus the termination charges) is taken off from your next lease or purchase. If you have negative equity (this is the case most of the time), the payoff value is added to the price of your next lease or purchase.
The dealer clears the lease balance and returns the vehicle to the leasing company. You won't have to worry about the lease anymore, but you won't have any trade credit on your next purchase. The amount paid by the dealer will then be rolled to your new vehicle financing.
What is the minimum trade in value of a car?
Different dealerships will offer you varying trade in values. The most important thing to remember is that the trade in value is often (not always) up to 30% lower than what you'd get from a private sale.
Where can I trade in my car?
Dealerships are among the best places to trade in your used car, especially if you're underwater on your car loan. If you're looking for a hassle-free deal, you may consider trading in your car 100% online with Gettacar. We'll pick up your old car as we deliver your new vehicle. We'll then allow you a period of up to 7 days to decide whether your new ride fits your needs and style or you'd like to return or exchange it for free!